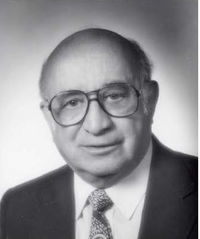 Simon Swirsky, 102, was born six months before the outbreak of World War I in the shtetl of Postawy, near Vilna. He passed away on Jan. 18, 2017. As a young man, Simon led his mother and siblings out of Poland, ahead of advancing Nazi troops, saving them from the mass execution of Postawy Jews in 1942. Drafted into the Russian army, he was assigned to tailor Soviet officers' uniforms. This allowed him to provide for his family and keep them together. (He continued to head and support his extended family into the years beyond their move to Cleveland.) By war's end, Simon had been transferred to railroad service, again employed as a custom tailor to Soviet officials. This brought the family to Kiev, where he met and married Myra.
The family was repatriated to Poland in 1960 and immigrated to America in 1966. After retiring as a pattern maker for Dalton Industries, Simon helped lead the resettlement of Soviet refugees in Cleveland. He also turned his talents to the preservation of Yiddish language and culture. He organized a local book rescue for the National Yiddish Book Center and cofounded the Yiddish Concert in the Park. He was honored for lifetime achievments by the Workmen's Circle and the International Association of Yiddish Clubs, in which he stayed active into his 90s.
Simon is survived by Myra, his devoted wife of 68 years; his children, Michael Swirski (Marian) and Ninel Borodi (George); his grandchildren, Adina Wolf (Seth), Rachel Dadusc (Daniel), Dan Swirski (Molly) and Nikki Borodi; and great-grandchildren, Orly and Anna Wolf and Sarah, Meir, Aryeh Leib, Shayndel and Tzipporah Dadusc.
Services will be held at 2 p.m. Thursday, Jan. 19 at Berkowitz-Kumin-Bookatz Memorial Chapel, 1985 S. Taylor Road in Cleveland Heights. Interment will be at Zion Memorial Park.
The family will observe shiva at the residence, 2200 Kerwin Rd. No. 613 in University Heights Thursday following burial until 9 p.m., 9 a.m. to noon Jan. 20, 7:30-9 p.m. Jan. 21, 9 a.m.-noon and 7-9 p.m. Jan. 22-24.
Contributions to the Yiddish Book Center (yiddishbookcenter.org) or Workmen's Circle Educational Center of Ohio (workmenscircle.org).
To view this service at 2 p.m. Thursday navigate to:
bitly.com/smallchapel
.
To view this service at a later date navigate to:
bit.ly/2ivKyww
and enter "Simon Swirsky" in the search window.