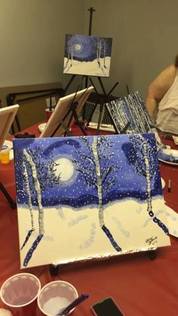 On the first of this month, Lori Cahan-Simon held the first ever Paint 'N' Shmooze party at the Workmen's Circle Educational Center in Cleveland Heights. The event was a huge success. Everyone had a great time and each left with a beautiful piece of art that they, themselves, created.
These fun and inspiring events are now happening monthly, so don't miss the next one on Wednesday, July 6th.
Click HERE to learn more about the next event.